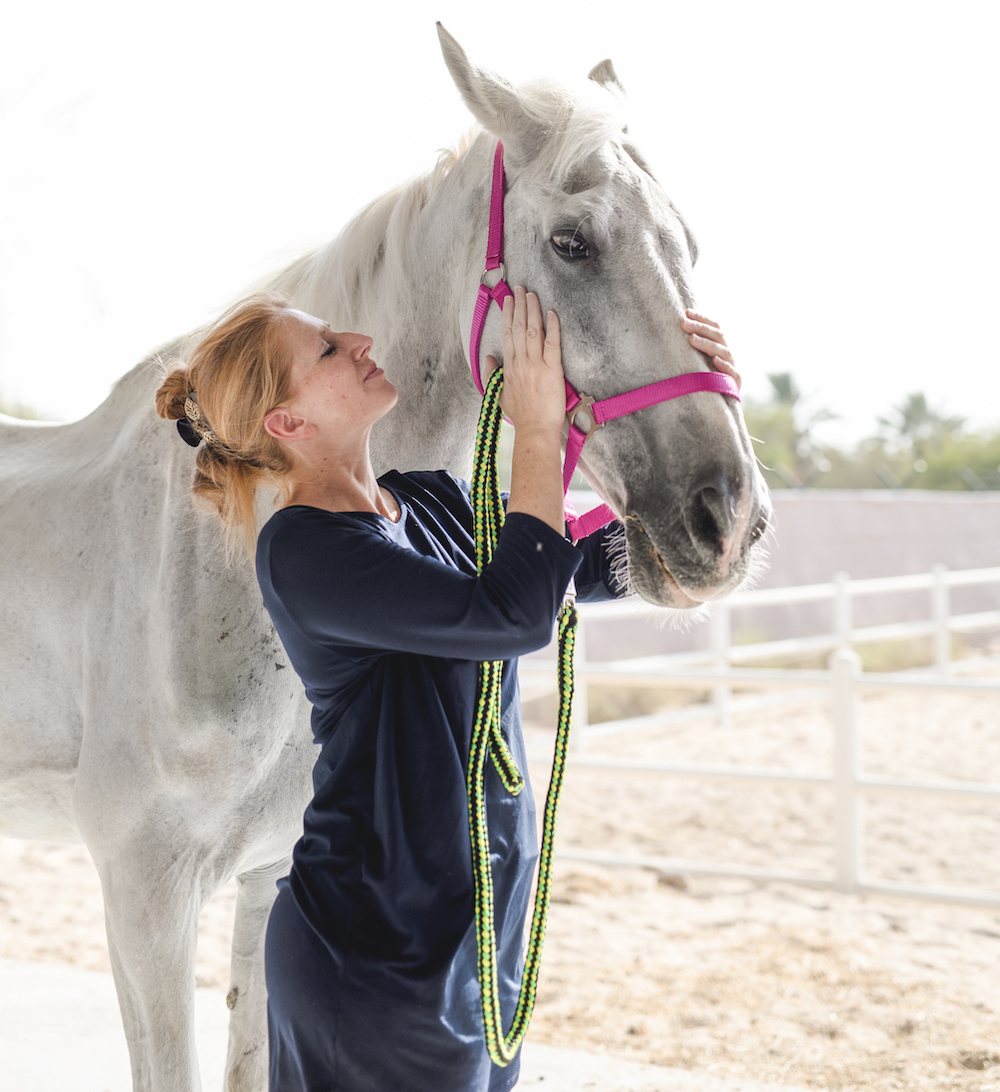 About Yasmin, the Founder
Yasmin Sayyed was born and raised in Germany by her Palestinian father & Greek mother, letting her think multinational and open minded from the beginning.
To really get an idea on who Yasmin is - please watch the below video from 3 Media UAE and their series "People and Places Abu Dhabi"
Yasmin's past

Horses have always been her passion, yet before turning them into a career, she studied fashion design and later owned several Italian Restaurants with her husband, first in Germany and later in Mallorca.
Following the break up of the relationship she ended up in Dubai in 2004, where she spent the first 9 years riding in an endurance stable for HH Sheikh Mohammed bin Rashid Al Maktoum. After the third accident, which led to her not being able to ride for a year, she quit the racing sport and worked as a manager for different stables in UAE as well as horse trainer and riding instructor.
Salambo was her first rescue horse in 2013 who she took in to care for him in his final days. He miraculously recovered and is still with Yasmin!
From there on, more horses have followed, all horses that were left in her care, abandoned or sick, old horses with no other place to go.
Yasmin, who is single and lives in Abu Dhabi with her cats, rooster and rabbits, now dedicates her life to giving these animals a few last years in dignity, at the same time educating people on animal welfare.
Yasmin's passion
Yasmin is passionate about what she does, and everyone who meets her in person can feel that she is a really good hearted person who truly dedicates her life to the animals. 
Especially the older ones are close to her heart and she wants to make sure that they get all the love and care before they have to move on.
Sometimes, she cares less about where she will get her own food from, as long as she knows that her animals will get what they need. 
If you think you can support Yasmin in doing all the hard work that she does, please reach out - you can donate either by bank transfer, cash, or by taking part in one of her programs. Please find more details here.