The Ride to Rescue Vision
What is our vision?
Why do we do what we do?
The UAE have been my home for over 15 years and I am so grateful for all the memories and lessons I have learnt here. It is an amazing place where we can all grow beyond ourselves, if we are open to change and to innovative thinking.
Horses and animals have always been close to my heart, and although it was somehow coincidence that I started rescuing horses, I also feel happy that I can now give back - give back to the animals, to nature, and to this country that I call home.
And it is not only me who feels that way, although I am definitely the most active part and the face of this organization.
Over the last years, a group of supporters have been keeping my back, all supporting me and the horses in different ways. These are all people who believe as passionately as I that we can all do our part for a better world.
The overall Vision
Overall, our vision is to enable a dialogue between humans and nature, and to help people reconnect to their own nature and grow in their personalities.
We welcome children and adults to meet and interact with our horses in a different, a positive, open way of mutual respect and dignity.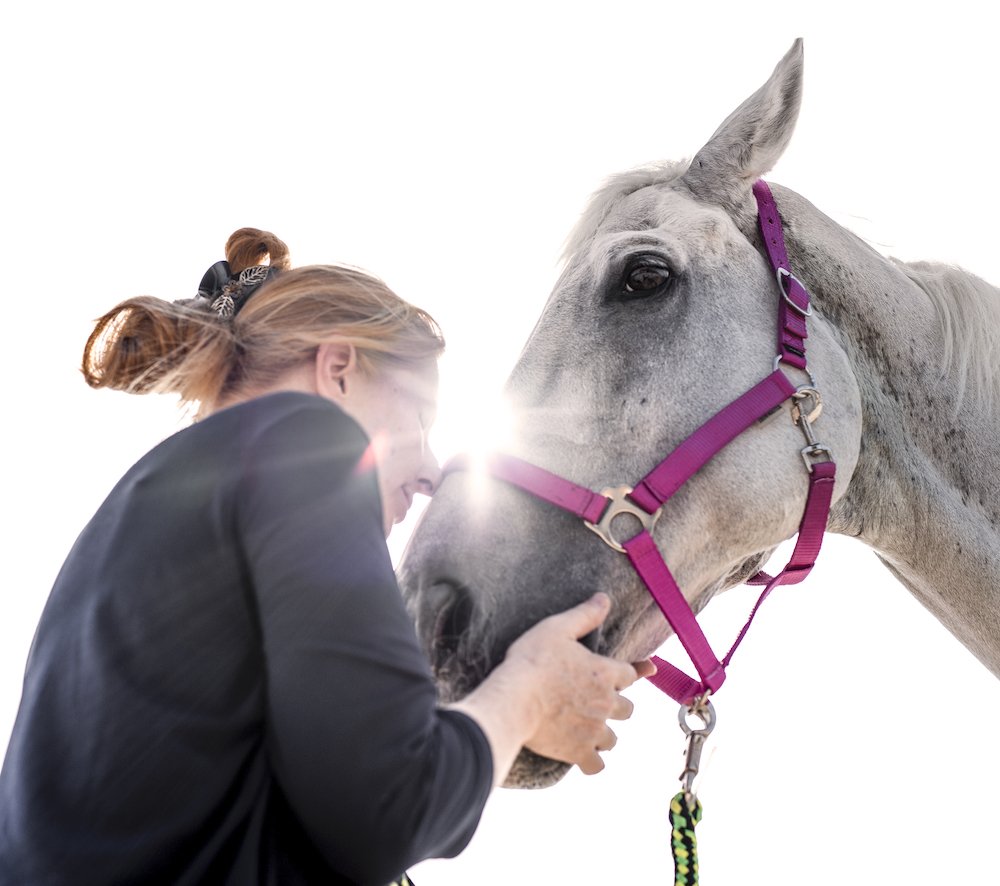 We want to spread kindness through our actions into the human society and not only treat the animals with respect, but also all our clients, partners, suppliers and helpers.

We never judge, our soul purpose is to help where we can, and do our little part for a better world where humans can live in more harmony with nature, and at peace with themselves. 
Reality
1. The reality is that we cannot do this all alone and sometimes we face obstacles and hurdles and have to ask the larger community for help, be it financial or asking for assistance when there are too many animals and people in our care.
2. Reality is also that a lot of horses, worldwide, are only of "use" to their riders when they can be ridden. Once too old or sick, they are no longer "needed" and become a burden. We on the other hand see the beauty also in old, "useless" horses, and believe that they can still "work" for us, just in a different way.
3. Fact is also that whilst the winter is beautiful in the UAE, the harsh summer weather is a struggle for many of the old horses that were raised in cooler temperatures, then imported here, and who are not made for this heat. 
The horses we take into our care are usually "special needs" horses, the ones that are sick, old, lame and that require special attention and care.
To get them safely through the summer heat, we need 5 star homes for them, lots of medical attention and supplements to nurture their old bodies.
We let horses go when we feel that they had enough, but as long as the horses are willing to live, we try everything in our power to make sure they feel good and can spend their last years in dignity.
Our dream
Life can be hard when you decide to start a rescue organization for big animals like horses. 
However, we never cease to dream, and our long term goal and dream is to help many more horses and people and run this project on a much bigger scale.
We have discovered, and it has in the past years also been proven scientifically, that horses and other animals can be very beneficial for humans and have almost "healing powers" in that they help us calm down and feel part of something bigger again.
Humanity is shifting, and after the industrial revolution we now face the next revolution, where we have to maximize the benefits of science and technology for society. 
Horses can play a vital role in reminding us about the human aspect in this change - the human need to be part of a herd, to live in harmony with nature and the planet, and with each other.
Our dream is a place where horses and people can thrive together, can move freely, can empower each other and reconnect.
A horse human empowerment center where people can destress from technology, return to living in the moment and interact with herds of horses who live a happy horse live in huge, green paddocks.
Where can the dream become reality?
Can a horse sanctuary be located in the UAE, a country where horses are part of traditional heritage and have helped humanity in past centuries during harsh times?
Can we build a unique place like no other where horses and humans really come together to learn from each other?

Up until today we have not found the right location in the UAE. 
Although vast spaces are available, the summer heat forces us to move inside during several months of the year, confining the horses to small boxes and bringing our project to a standstill as customers cannot be outdoors anymore.
The UAE is also a very expensive place for a horse rescue, where food needs to be imported at high cost and air-conditioning during the summer is expensive and only available in the most luxurious places.

Without some sort of big support to reduce costs and get the space we need, the rescue will never be sustainable here. Therefore we have started to shift our focus to other countries, where the weather allows our horses to stay outdoors and move all year round, with access to green grass. 
Retired UAE horses in Greece
Our family land
In talking to my family, I discovered that we still own land in northern Greece, at the border to Bulgaria and Turkey. It would be the perfect place where we can build a permanent home for our horses, cheaper than the UAE in it's running cost, and it could be a beautiful place where more retired UAE horse can be sent to.
Hence, the plan for 2020 is to fly to Greece once possible and see what needs to be done.
We can convert this land into a paddock paradise for horses. It also hosts the town's public swimming pool (45 meters long!) and a house which can be converted into a B&B for our visitors.
We could finally have a place which we call our home, and where we can welcome guests and horses from the UAE and all over the world to spend time with horses in nature, learning more about these beautiful animals.
It could also be a place where UAE horse owners can send their horses for retirement, and where they would get the best care possible.
Support our Dream
Can you help us make this dream become reality and help even more horses?
Please get in touch if you can be a supporter of our project - we are happy about any advice we can get from people who have build sanctuaries before, or who can help us with construction in Greece, or just any person who has a few Dirhams to spare. It will costs money to renovate this land and transport all the animals - but this time, we have a destination to stay. Forever.
Yours, 

Yasmin and her herd